This weekend the United States will be celebrating Memorial Day. It's a day that many Americans view as the official beginning of summer, marked by trips to the beach, picnics, BBQs, and relaxing with friends and family—including your furrier members! To prevent any Memorial Day mishaps, we've put together some tips to help protect animals during the "Dog Days" of the season.
BTW: Please keep in mind that the shelter will be closed on Memorial Day.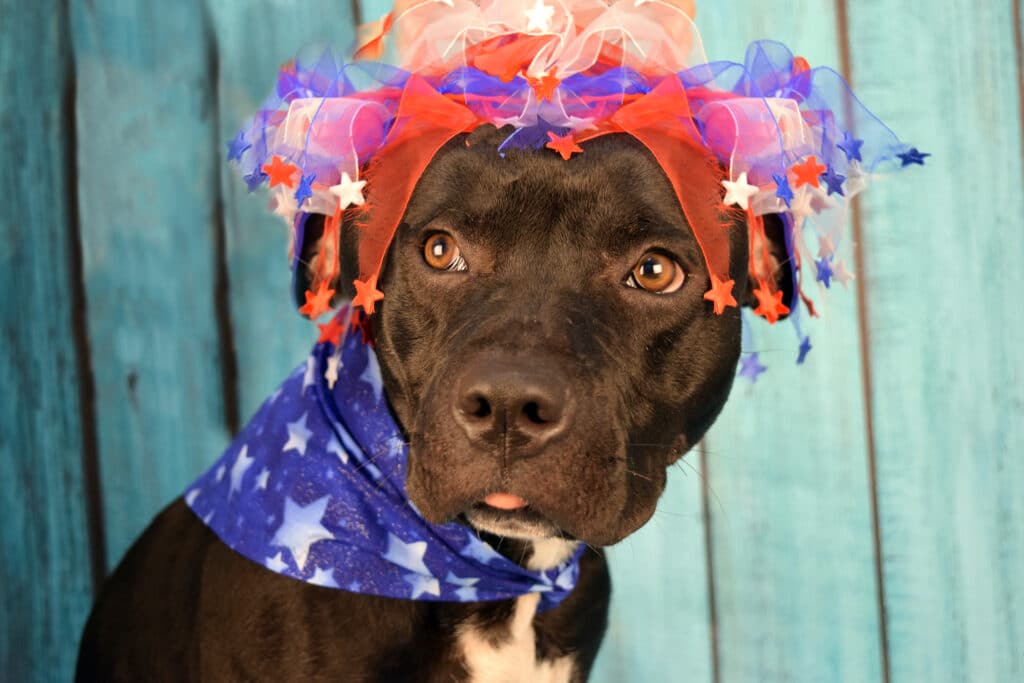 IDs, Please
Time spent outdoors comes with the added risk of pets escaping. Make sure that your pet is fitted with a microchip, which is the most permanent method that has been proven to be effective. With several different companies distributing microchips, you should contact your veterinarian to determine which is best suited for your pet. Most microchip companies require an annual fee to keep your information current in their system. Most also provide a tag that states the pet has a microchip implanted.
Other forms of identification include an additional tag that you can fasten to your pet's collar which displays your address and telephone number on one side, and the name and telephone number of an out-of-area friend or relative, who could help with information on how to locate you. These pet ID tags can be made in person at the HSBC.
The license tag that you receive each year after your pet has received its rabies vaccination is one of the simplest methods of identification, and serves as an immediate way that someone can return your lost pet to you. Broward County Animal Ordinance 4-11 requires your pet to wear this license tag, as it doesn't help the animal if it is stored in that all-too-famous "junk drawer" that most of us seem to have.
Mind Your Meal
Barbequing is one of the best parts of Memorial Day, but remember that some of your refreshments may be poisonous to pets. Keep alcoholic beverages away from animals, and remind guests not to give them any table scraps or snacks. Raisins, grapes, onions, chocolate, and avocado are all common at barbeques—and they're all especially toxic to animals.
Made in the Shade
As we mentioned on Monday, it's that time of year for hot dogs… and, not frankfurters! Pets can get dehydrated quickly, so if you're spending time outside, give them plenty of fresh, clean water and make sure they have a shady place to get out of the sun. Note that animals with flat faces, like Pugs and Persian cats, are more susceptible to heat stroke since they cannot pant as effectively. These pets, along with the elderly, the overweight, and those with heart or lung diseases, should be kept cool in air-conditioned rooms as much as possible. Click here to read our full blog post on avoiding heat stroke.
Be Cool Near the Pool
Don't leave pets unsupervised around a pool or lake. If your pet is curious about swimming, introduce him/her to water gradually and try to keep your dog from drinking pool water, which contains potentially dangerous chemicals like chlorine. Finally, make sure he/she wears flotation devices when on boats—not all animals are great swimmers.
Skip the Spray
Mosquitoes are a pain (especially in Florida), but bug spray can be deadly! Unless specifically designed for animals, insect repellant and sunscreen can be toxic to pets. Signs of repellent toxicity include drooling, vomiting, diarrhea, excessive thirst, and lethargy. DEET, a common insecticide in products for humans, may cause neurological issues in pets.
Finally, if you'd like to celebrate Memorial Day a little more humanely, check out these humane picnic tips from the ASPCA.
Happy Memorial Day, Everyone!