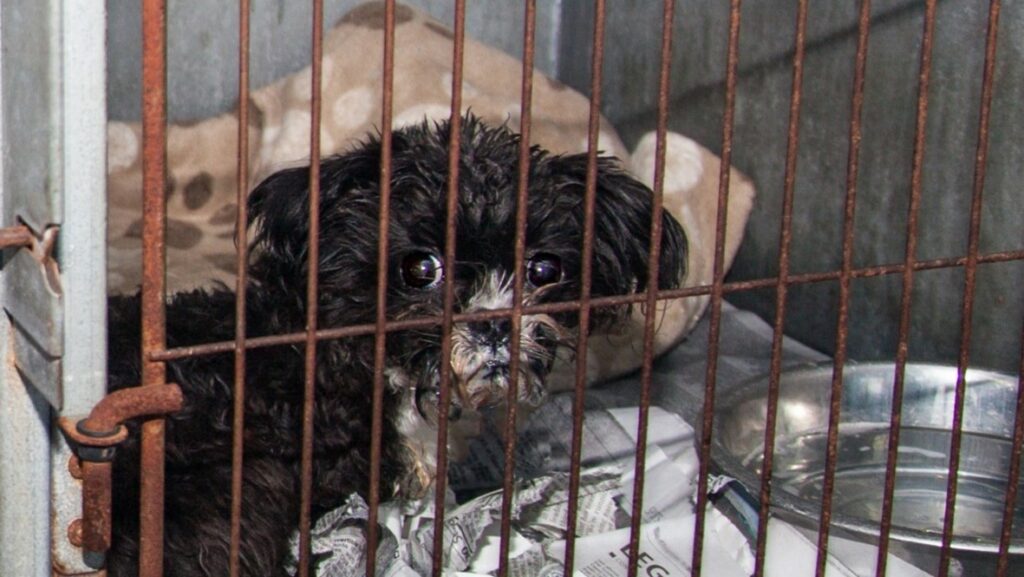 With so many adorable puppies available in shops and online, who wouldn't be tempted to consider a new addition to their home? Unfortunately, many of these puppies are provided at a terrible cost- they are the product of puppy mills. Puppy mills negatively impact the lives of thousands of animals throughout the United States, as well as the pet population in general. They also will likely provide new owners with pets who are sick or have behavioral problems.
So, what are puppy mills? Puppy mills first gained popularity in the 50s, when struggling production animal farmers turned to breeding dogs for a less expensive and less-intensive way to make a profit. Since then, as pets have become a more emotional and dear part of our families and the pet care industry has boomed, so too has the intensive production of puppies. These mills have minimal costs to set up, house pets in cages 24/7 and breed dogs at every heat cycle for as long as they are able to produce. They then sell the puppies for a profit.
Puppy mills provide horrific living conditions for dogs- both the parents and the offspring. Often these pets have lived their entire lives in a cage either in crowded basements and outbuildings, or outdoors with minimal shelter. They may have never walked on the grass or seen the sun, or ever been able to walk outside their cages. Some will have been housed alone, never socialized, never able to play, and taken away from their mothers far too young. This means they may have severe behavior issues, unbeknownst to their adopters. Veterinary care is rarely provided in the puppy mill setting, so the adults often have severe dental disease, have gone blind, and have numerous untreated injuries. They live in squalid conditions and are not fed appropriately. The conditions are not sanitary and pets and their enclosures may be covered in excrement and urine. Pets are bred at every possible heat cycle, turned into literal puppy factories and treated more like a crop than a living animal. When they are no longer able to produce, they are no longer profitable and thus useful to the mill owners. Some are auctioned off (if they have another litter or two in them) or abandoned, but others may have an even more alarming end. There are documented cases of people being prosecuted for shooting and killing mother dogs that are no longer able to get pregnant.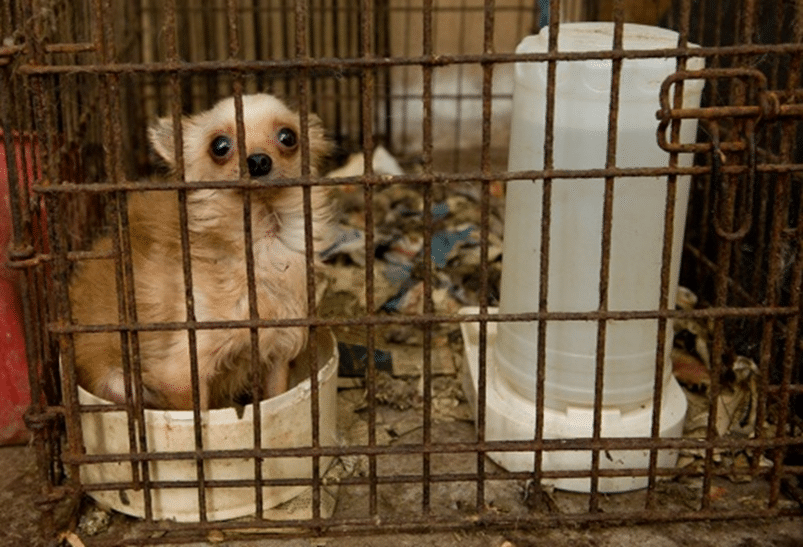 Due to the poor conditions that pets are living in and the fact that they are rarely vaccinated against disease or see a vet, illness runs rampant within the puppy mill populations. This can result in mass deaths of pets from easily preventable diseases. In one case investigating the Hunte Corporation it was reported that puppies who were too ill to sell were brought back to the mill owners and any pups that died during transport were buried on their property. In 2003, they were cited for dumping more than 1,000 lbs of dead puppies on their land. In another incredibly egregious case in Pennsylvania, two breeders shot 80 Shih Tzus and cocker spaniels rather than provide veterinary care. Sometimes the puppies are sold sick to unexpecting new owners instead of being sent back. My own sweet pup was originally a puppy mill baby. He had been purchased at a pet store, but was incredibly ill. His owners tried very hard to get him healthy, spending thousands on him at their pet hospital, but unfortunately he wasn't improving. Having run out of funds, they were forced to surrender him to our shelter. Months of nursing him back to health and extensive medication regimes (as well as a live-in vet!) allowed him to finally recover. Unfortunately, the funds to purchase him have only served to support the continued misery of his parents and compatriots back at the mill.
Over 6 million animals are in shelters in a given year on average. Statistically, only about 15% of people with pets have adopted them from a shelter. Without homes to go to, over a million pets will be euthanized each year. Puppy millers, with their constant production of new pets, contribute greatly to the number of animals dying in a couple of ways. They take homes away from pets in shelters who might have been adopted in their stead, and they may themselves be surrendered due to severe health issues (as with my own sweet pup).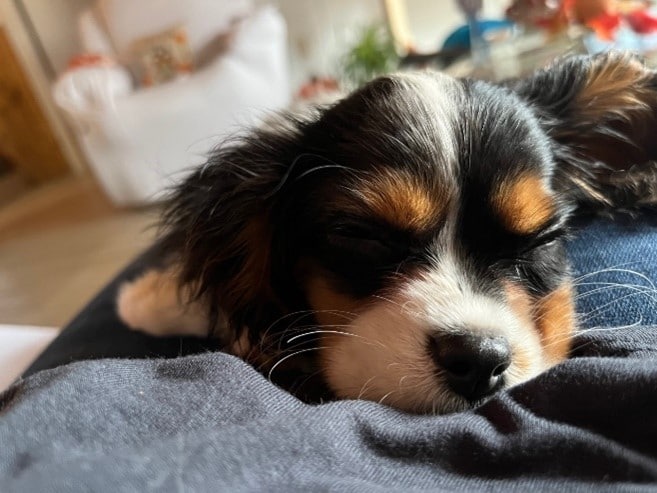 So how does all of this affect where you are purchasing your puppy? Studies show that puppy mills supply 90% of pet stores, so chances are if you are purchasing a puppy from them, then you are getting a puppy mill dog. This means you not only may get an ill puppy, but also that the money you pay for that pet contributes to supporting the awful circumstances that your pet's parents are likely still living in. So, while you may see a sweet cute puppy as in figure A below, be aware that their life has been much darker to this point (see figures B, C). It is key to have all of the information and source your beloved pets carefully so that you are not subsidizing this horrific practice. Puppy mills also sell online, in classifieds and on social media. They often sell breeds that are in high demand or fancy mixed breed dogs like doodles. For obvious reasons, they may be reluctant to have you visit the premises and may insist on meeting you in a parking lot or other public place. They also rarely ask in depth questions of potential adopters. All of these are red flags that the seemingly nice private breeder you are working with may be a puppy miller.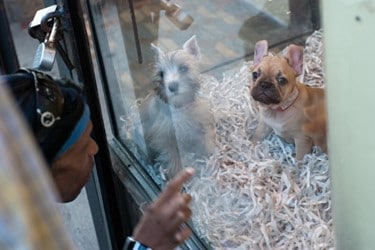 If, after reading the information above, you want to avoid a puppy mill purchase, how do you go about finding your next pet? Our first suggestion would be at an animal shelter. At the time of writing this article, we currently have 25 sweet little puppies in our shelter waiting for a home (in addition to dozens of wonderful adult dogs, too!). All of them will be sent home with at least their first round of vaccinations, dewormed, spayed or neutered, as well as having had a check up with a veterinarian or tech staff. If you have a specific breed in mind, but still want to rescue, don't despair! We frequently get pure bred or breed typical pups in at the shelter and are happy to match pets with their ideal owner. Let us know what you're interested in, and we will do our very best! In addition, there are hundreds of lovely, breed specific rescues available to work with. If they don't have the right fit for you now, they may be able to put you on a wait list to receive the sweetie you are looking for. In truth, with a little patience, there are so many options to get the pet of your dreams and not contribute to the puppy mill industry.
When finding your own puppy to love and care for, it is key to be sure that you aren't contributing to the systematic victimization of both your pup and their parents. By choosing to find your puppy at a rescue or shelter, you are taking money away from animal abusers, and saving a beautiful little life at the same time. We hope you choose to rescue!
**Please be aware this is an example photo of a puppy store and we are not explicitly saying that this particular store supports puppy mills.
Additional sources: paws.org/resources/puppy-mills/