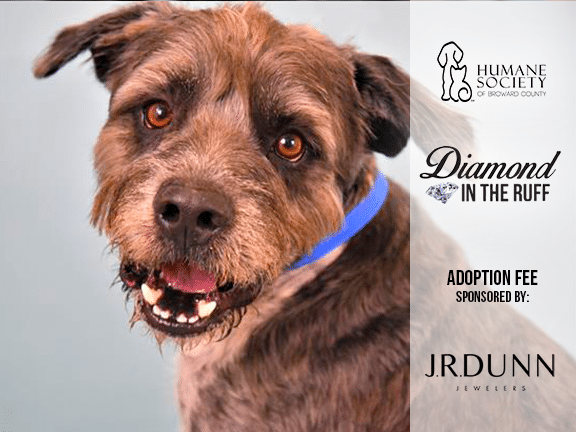 Six-year-old Teddy has had a rough go. He was brought into our shelter as a puppy and then adopted 5 years ago. Now he is back at our shelter and doesn't know what is happening. Teddy is a sweet dog that is good with dogs, cats and children over 3 years. He is housebroken and loves people, but sadly he has extreme separation anxiety, which is why he was surrendered to us. Teddy is a Wirehaired Pointing Griffon mix, which is a breed that is very friendly and affectionate but likes to have a job and be with their people. He needs a family that will understand his anxiety and help him succeed in his next home.
Teddy's friends at J.R. Dunn Jewelers have kindly sponsored her adoption fee. If she sounds like she might be a good fit for you, please fill out a pre-adoption application at www.humanebroward.com and come to the shelter to meet her. The shelter is located at 2070 Griffin Road, Fort Lauderdale, FL and opens daily at 11 a.m. If you have any questions call 954-989-3977 ext. 6.
Submit pre-adoption application
If you can't adopt, maybe you can help spread the word to help me find a home?
About Diamond in the Ruff
Since 2016, longtime Humane Society of Broward County supporter J.R. Dunn Jewelers has been helping to create true love – by sponsoring pet adoptions so that more dogs and cats can find happy homes. The program is called Diamond in the Ruff, and who knows diamonds better than J.R. Dunn?
J.R. Dunn features a pet each week – yes, 52 pets every year – and underwrites the entire adoption fee for that dog, puppy, cat or kitten. Diamond in the Ruff is promoted through J.R. Dunn's local radio spots and social media, and the HSBC will do its share of promotion as well.
What a fabulous way to put their money where their heart is, and to bring attention to all the amazing dogs and cats that are so ready to be loved. Furry little diamonds in the rough – just waiting for their "perfect setting!"
Be sure to visit J.R. Dunn's Facebook page each week to see who the featured pet is and you might just find your next family member. Of course to meet the pet, contact the Humane Society of Broward County at 954-989-3977.
About J.R. Dunn Jewelers
Family-owned-and-operated J.R. Dunn Jewelers has been in business for more than 46 years. Specializing in diamonds, designer jewelry and fine Swiss timepieces. Two generations work side-by-side to bring the best in selection and customer service to South Florida. A national and international clientele are served through J.R. Dunn Jewelers online. Visit their 8,000-square-foot showroom in Lighthouse Point, or go to jrdunn.com for more information.