In the Winter 2016 Paw Prints we introduced Dolly's Dream Project funded by the Levitetz Family Foundation. The project covers the cost for spay/neuter surgery for American Staffordshire terriers and mixes and helps with surrender prevention.
Dolly's Dream Logo Dolly's Dream has expanded and now they are underwriting the adoption fee of select bully breed dogs. In addition to underwriting the fee, they will cover the costs for the basic items that the dog will need to succeed in their new home. This includes a training crate, Sensation harness or No-Pull harness, chew toys, collar, ID tag, leash, training treat bag and basic dishes. If necessary, they will also cover the cost of obedience classes here at the Humane Society of Broward County.
Each week there will be two dogs featured who are part of the Dolly's Dream Project and a sign is on their kennel door so potential adopters know about the offer.
Meet Our Current Dolly's Dream Dogs
Sheba (ID A648439)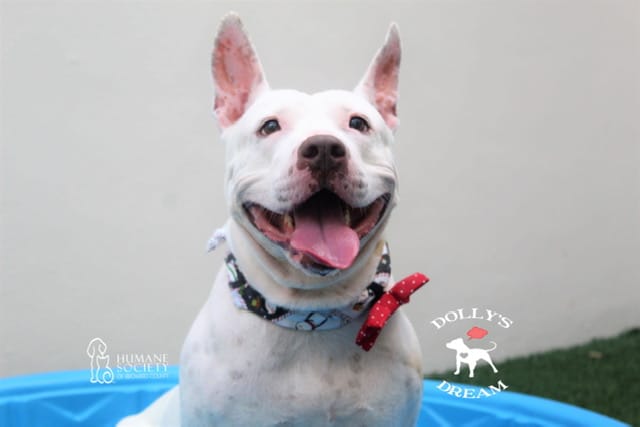 My name is Sheba (ID A648539) and I'm a 2-year-old, fun-loving gal who loves to play in water and my foster family said I was the best dog they ever took care of. I'm good with older kids, am potty-trained and like to play. I came to the shelter with my babies, and they have all been adopted. Now I'm patiently waiting for a family to take me home. Will it be you? Thanks to Dolly's Dream my adoption fee is sponsored, and I get to go home with goodies to help me settle in. If you want to meet me or any other pet, please fill out the pre-adoption application on the website www.humanebroward.com and then stop by the Humane Society of Broward County. The shelter opens daily at 11 AM and if you have questions call 954-989-3977 ext. 6
Tot (ID 651665)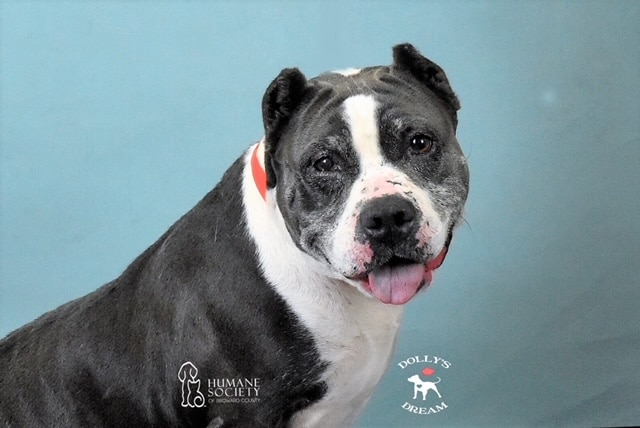 My name is Tot (ID 651665) like tater tot 😊 I might be a bit bigger than some of the other dogs at 68 pounds, but that just means there is more of me to love!
I was previously in a foster home, and they said I am a BIG cuddle bug. I love to snuggle. In my foster home there were other dogs and cats and we all got along well. Please don't pass me by just because I grew up. I want a family to love just like all the others. Can you make my wish come true? Thanks to Dolly's Dream my adoption fee is sponsored, and I get to go home with some goodies to help me settle in. For more details call 954-989-3977 ext. 6