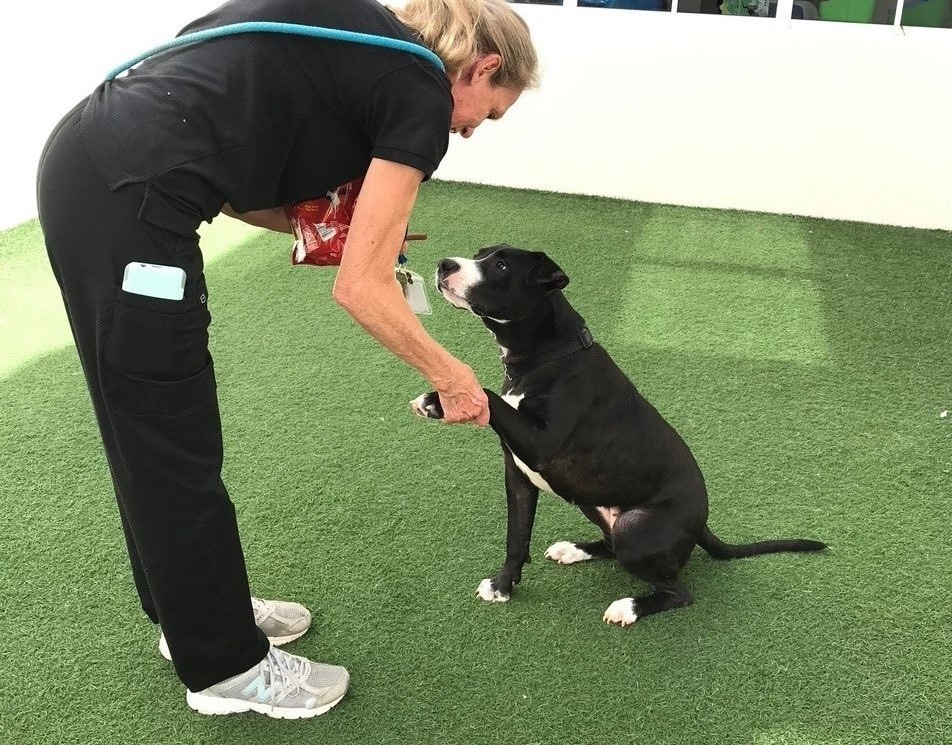 Keeping animals mentally stimulated and entertained in a shelter environment can be challenging and some of the things we use to create a softer, friendlier environment are: calming music in the kennels, this music is specifically designed to reduce stress and anxiety. Toys, towels and bedding. Puzzle toys such as KONGs and slow feeder bowls, cat grass and Feliway in the catteries. All the little things that we do every day help animals have the opportunity to express species specific behaviors and improve their quality of life. We are very excited here at the Humane Society of Broward County to be launching an extended program to intensify our efforts to provide environmental enrichment for our shelter animals.
Managing Our Environment
In the majority of cases dogs and puppies, cats and kittens that have a problem with inappropriate behaviors are bored and socially isolated. Here at the shelter we are constantly thinking of ways to improve the day to day socialization and environmental enrichment for all the shelter animals.
Dogs and puppies: Some things we do to help the dog and puppies feel calm and comfortable:
Food toys such as a KONG for kenneled animals. We use a soft food treat or something tasty to stuff it with. Soft and chew type toys are also given to each dog to give them a chance to play or just snuggle with a toy.
Kurunda beds and soft bedding. If a dog is comfortable he is more likely to relax and sleep.
Music to help animals relax and relive stress and anxiety. Through a Dog's Ear is a CD set which we recommend.
PAL volunteer program (Petting and Attention and Love). Volunteers come every day to visit with the dogs and puppies. Tactile attention is extremely important for social creatures like dogs.
Dog Walking volunteers walk dogs for exercise and to give dogs the opportunity to eliminate. This program helps reduce stress and anxiety by allowing dogs to release pent up energy and experience some fresh air and sunshine. We have extended walking exercises to include training and nose work. Staff and volunteers are supporting these programs.
Some of the additional techniques and exercises we are using:
Outside play. Playing outside has been studied and is known to help animals reduce stress related behaviors. Play is very potent medicine!
Play groups. Playtime benefits the brain, lighting up the developing nervous system with sensory input, leading to improved physical coordination and a more balanced neurochemistry.
Training cooperative care exercises. The chin rest, touch, and bucket game are all ways we give the animals a choice in their care.
Nap time. We are instilling quiet time to bring some relaxation to a very busy atmosphere. The lights are dimmed for one hour twice a day and dogs are encouraged to take a nap and get some needed sleep. Sleep repairs and rejuvenates the brain and body.
Taking a day off. Occasionally a dog or cat may be overwhelmed by the shelter activities and giving them the opportunity to take a day off in a quieter area is a chance for them to reset and recuperate.
Cats and kittens: Some things we do to entertain our feline friends:
Battery operated toys that move and can be turned on and provide hours of interactive play.
Cat friendly grass grown here at the shelter provides small green spaces for the cats to enjoy munching.
Raised sleeping beds. The beds our cats enjoy were generously donated and the cats now have comfortable soft resting spaces that give them the choice to sleep on the elevated perch on underneath as a cozy place to have a little privacy and safety.
Multiple types of toys are used to help cats and kittens have play time.
PAL time is also something the cats enjoy.
Years old research has shown that environmental enrichment has a critical impact on captive animals and directly improves quality of life. We endeavor to provide as much enrichment as we can to create a healthy situation for mental stimulation. We could use your help in providing the best possible care we can for the animals entrusted to our care. Donations of treats, food toys, chew toys and of course, monetary contributions to help us purchase needed items will allow us to continue to build our new expanded program.