Thanks to a generous grant from a South Florida foundation, in March of 2016 we initiated Dolly's Dream, a program geared entirely toward bully breed dogs. (The president of the foundation had adopted a dog named Dolly – the first pit bull he ever rescued – hence the name "Dolly's Dream.")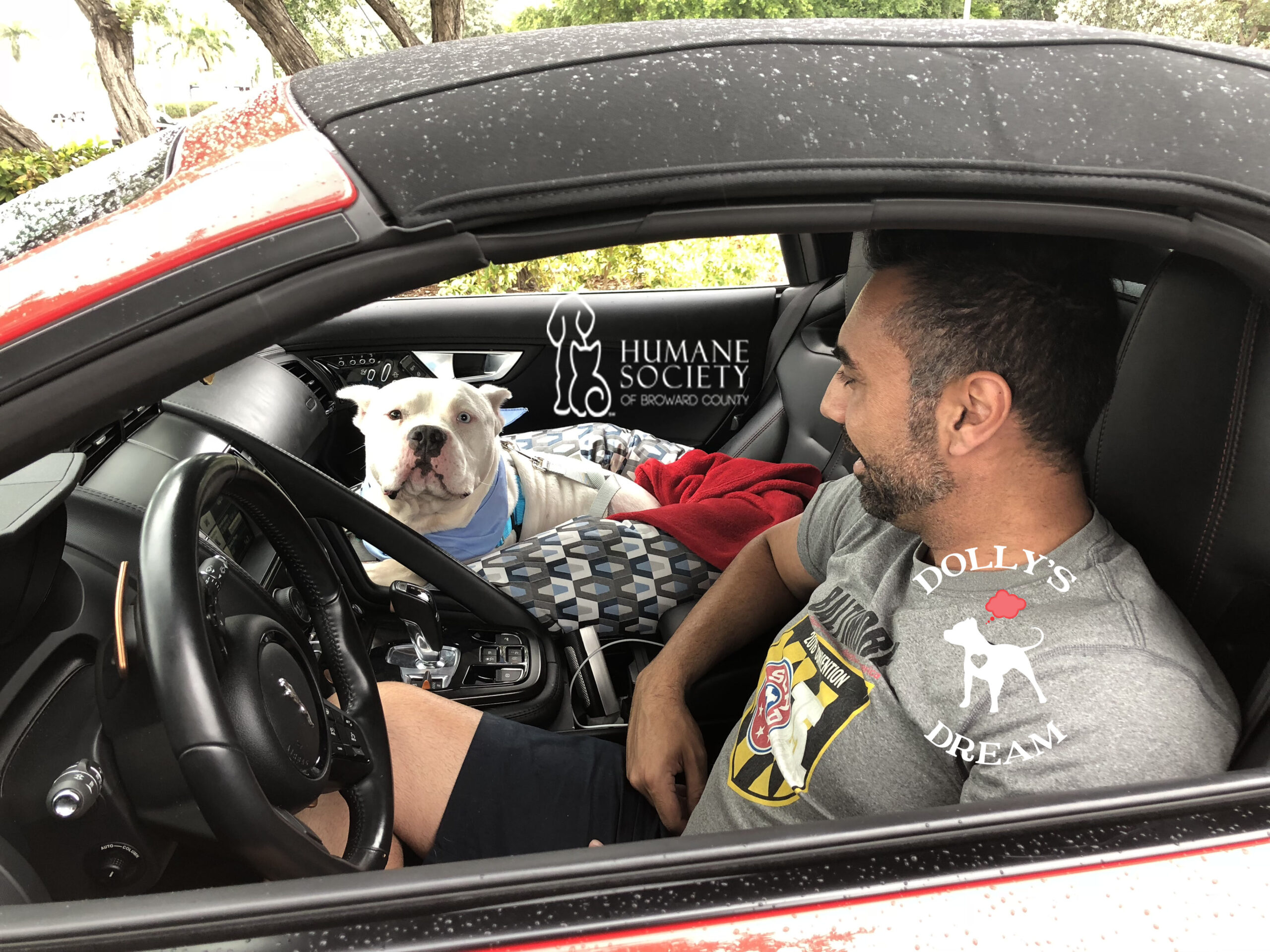 The foundation works with eleven other animal shelters in Florida, with the HSVC having signed on as their first beneficiary. Each month, the adoption fees and supplies for selected bully breed dogs are completely underwritten; Dolly's Dream also provides free spay/neuter services and surrender prevention measures in Broward and Palm Beach counties.
In May of this year, we reached a milestone when seven-year-old Georgia found her forever home, marking the 100th Dolly's Dream dog to be placed at the HSBC! Georgia came to us from a shelter where very few people visit to adopt, and she won the hearts of staff and volunteers with her calm demeanor and eagerness to please. Her new mom Mindy saw what a gem this girl was, and intends to train Georgia as a service dog. Georgia accompanies Mindy to work at a law office, where she is a popular addition to the group.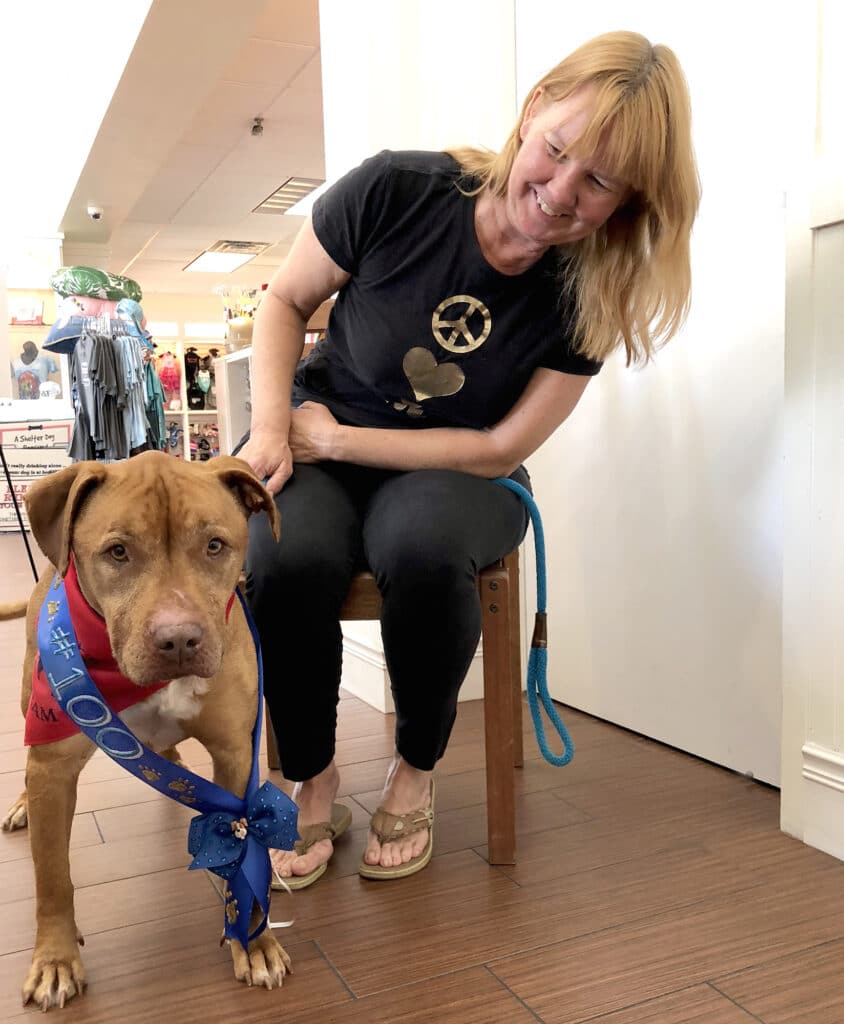 Meet #27, Hero
Hero, Dolly's Dream Dog #27, was adopted by Belinda and her family in February of 2017. Originally a transfer from Broward County Animal Care and Adoptions in November of 2016, Hero arrived at the HSBC with a terrible skin condition that left him intensely uncomfortable itching and a patchy coat.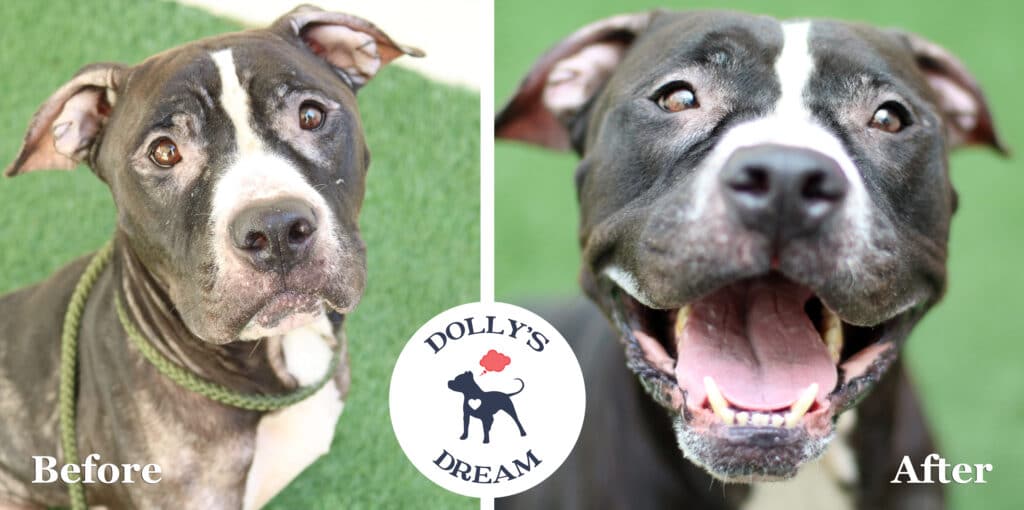 His medical notes diagnosed "patchy full-body alopecia." He was put on medication and given weekly medicated baths, and after weeks of treatment and TLC, Hero started to look like the supermodel we knew he could be!
After a long four-month road, Hero hit the jackpot when his new family adopted him. They tell us that Hero is "the happiest baby hippo in all the land. He's traveled with us from the southernmost point in the U.S. to Disney… within this year he's transformed into the biggest, most lovable pooch ever. His two besties are chihuahuas that love him… he's the best dog and we're so fortunate to be his fur-ever family."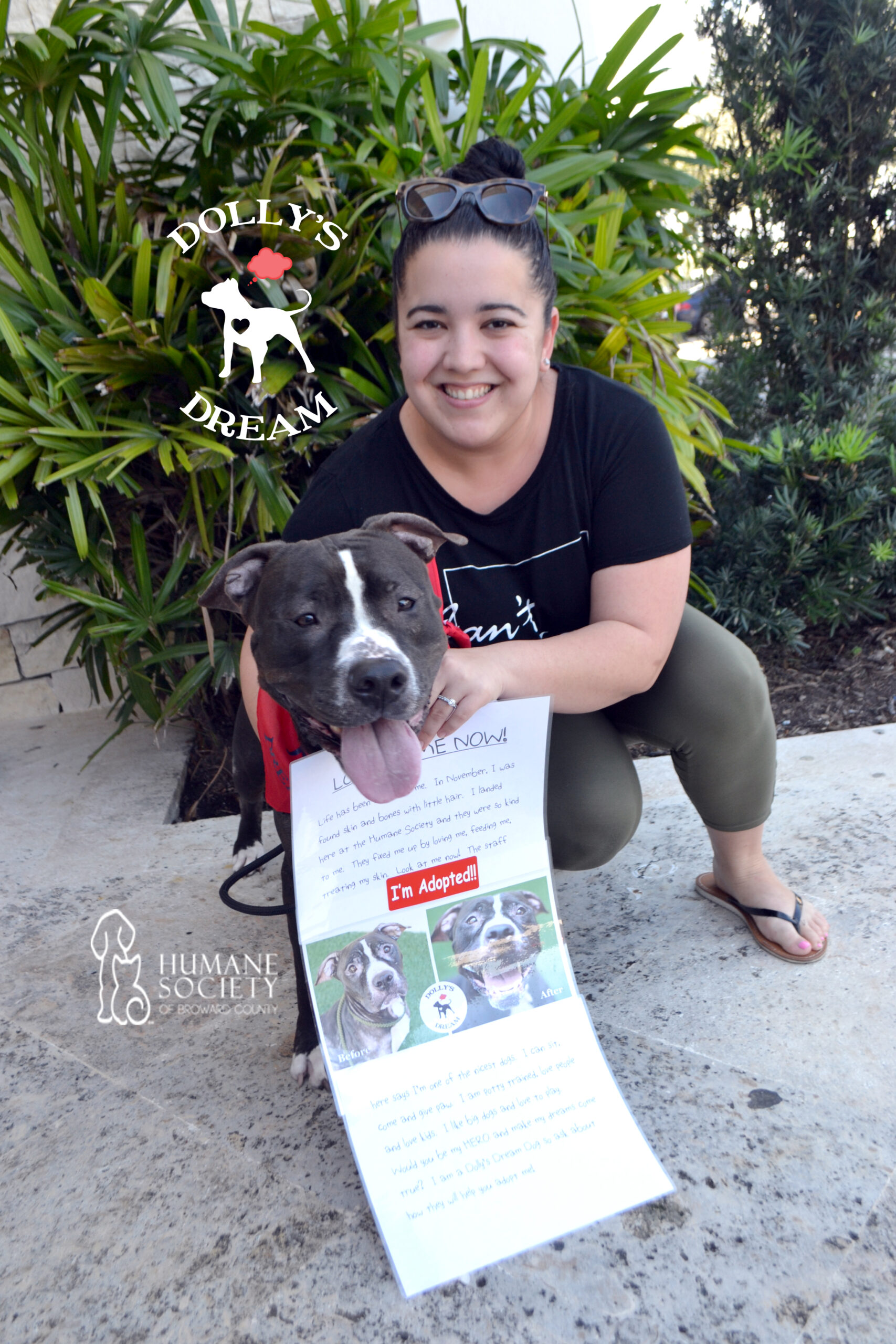 Meet #48, Jaxson
Jaxson was adopted last May by the Willoughby family of Cooper City. While they had a bit of a rocky road in the beginning, "he is a wonderful and loving dog. He finally is friends with my cat, which took a while. He is besties with our older pit-mix as well."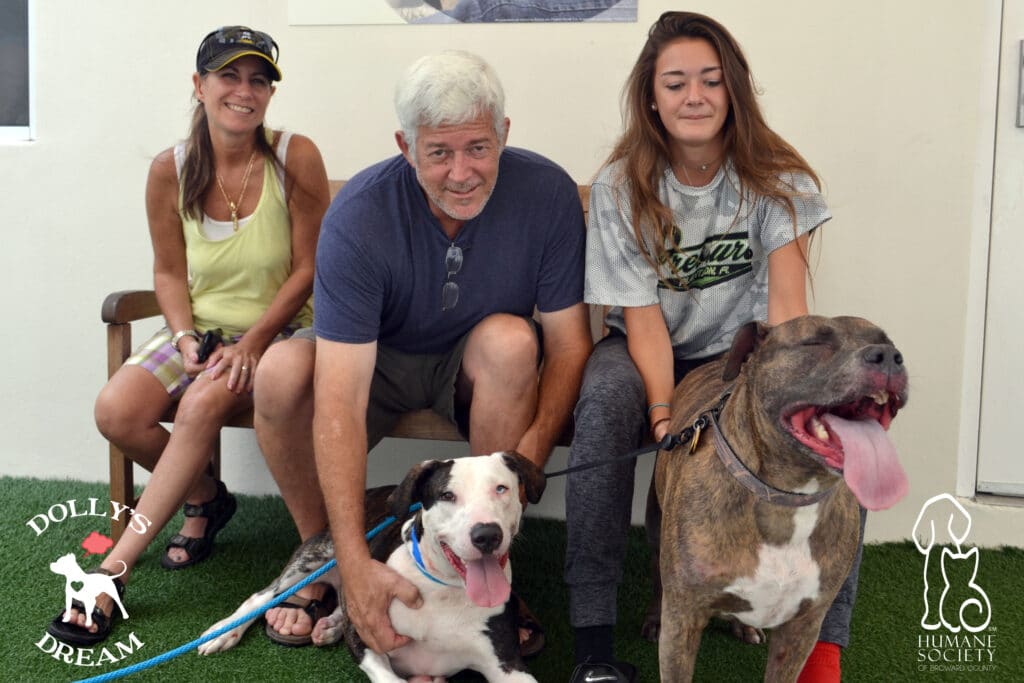 Meet #25, Diesel
Diesel was adopted in November of 2016 and was heartworm positive, so he had to come back to the shelter for treatment several times after his adoption.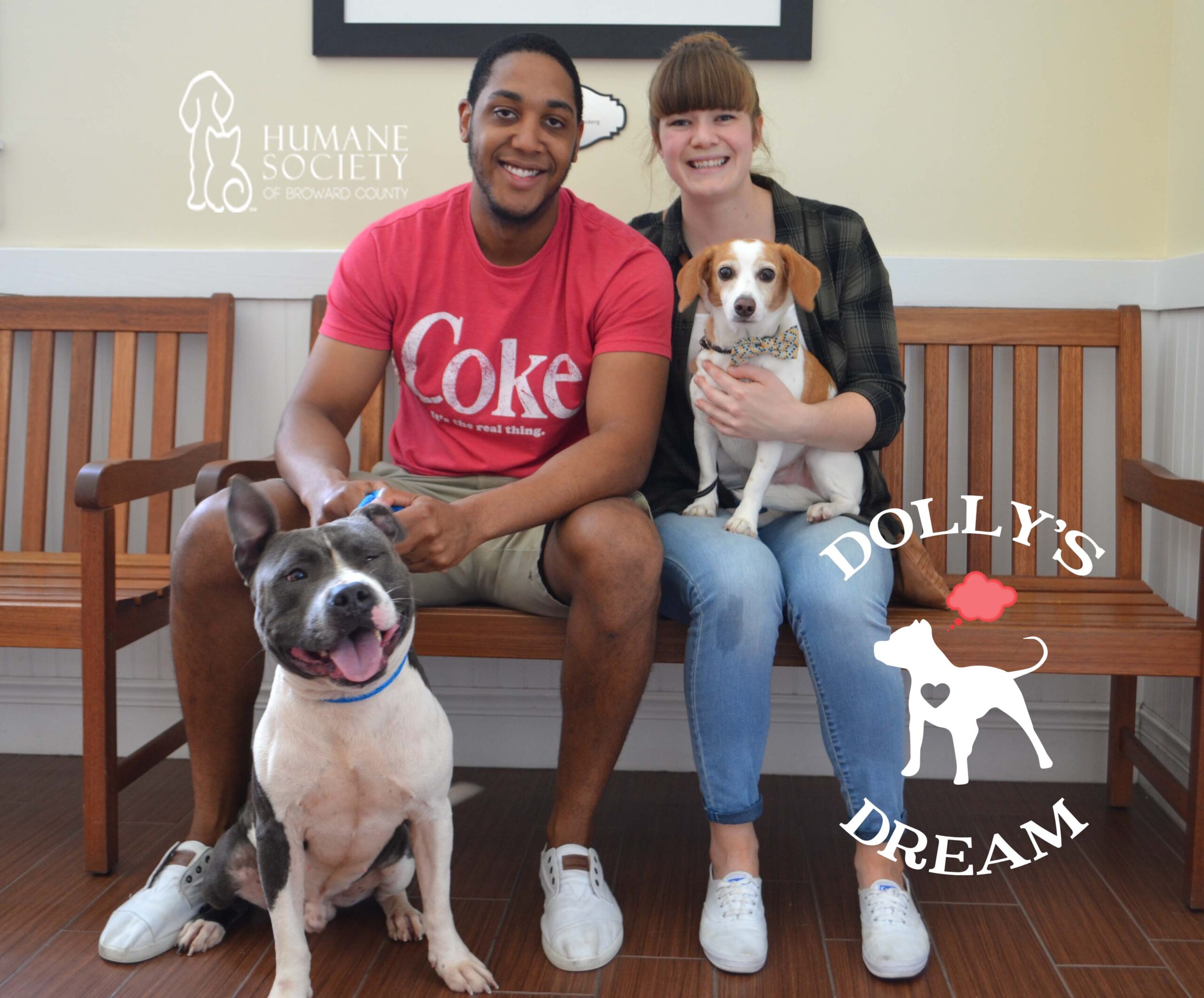 His dad Josh tells us, "Diesel has become an irreplaceable member of our little family. He is the happiest, goofiest boy in the world, and his only goals in life are to be loved and to eat treats. He loves going for walks, getting cookies, and curling up in bed with his big brother, Gomez."
Meet #80, Grace
Earlier this year, Grace was adopted by Sarah and Michael. Her mom and dad report, "She is such a great dog! Usually you think rescue dogs are getting rescued when you adopt them, but it is Grace who blessed us so much more! She transformed our lives… I really appreciate Dolly's Dream for helping us to bring Grace into our lives… she has been such a blessing!"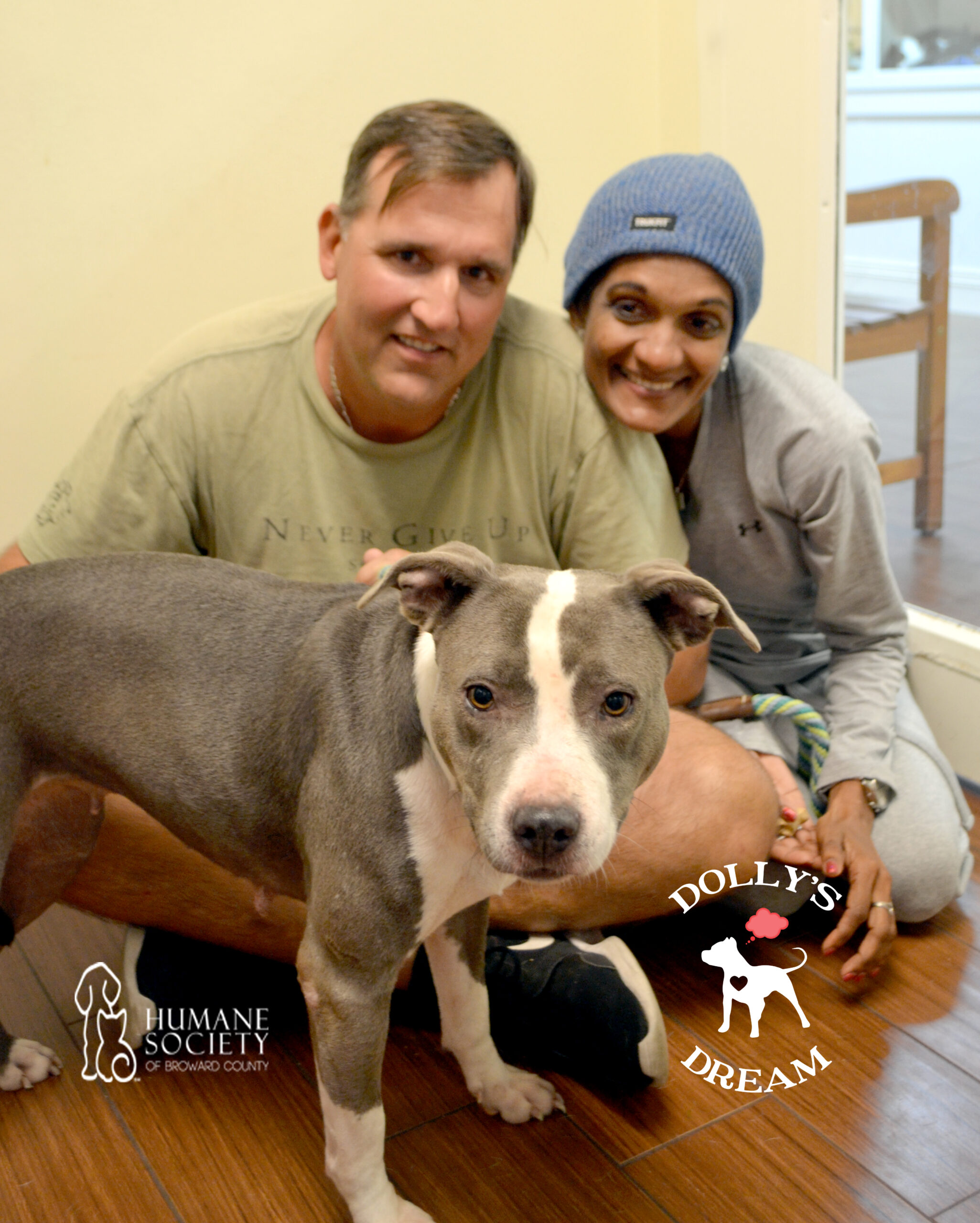 Daniella Jordan, Executive Director of the foundation that started Dolly's Dream told us, "We are so happy with the success of the program and we can't wait for it to keep on growing. Our goal is to dispel the myths and misconceptions that these amazing pit bull-type dogs have. That is why we now partner with 11 different humane societies throughout the state of Florida to get these sweet, loyal dogs adopted out of the shelter and into loving homes.

"We are overwhelmed with happiness to have given over 215 families the best gift in the world, a pit bull and best friend."

Dolly's Dream has made a huge difference for bully breed dogs throughout Florida. We will continue our endeavors to educate the public, and to place these wonderful dogs into the loving homes they so deserve.